Rubber Joint
China rubber joint manufacturers, rubber joint suppliers, rubber joint factory. The Vatac Rubber Flexible Joints (Rubber Joint) are ideal in heating and air conditioning systems, where low initial cost and maximum reliability are a must. The Vatac connectors have EPDM cover, providing excellent resistance to sunlight, ozone, oxidation and is resistant to damage from dropping oil. These items are with a EPDM tube, which is good for hot and cold-water service & mild chemicals.
The fully molded Single Sphere design provides greater flexibility, thus protecting mating flanges, especially PVC and fiberglass types. The steel flanges easily rotate on the bellows, which makes it easier to line up the bolt holes during installation when counter-flanges are out of line. Separate retaining rings are never required. With a temperature rating of -20°C to 100° C ., the standard sizes range from 1" through 24".
Please feel free to contact with us at sales@cnvchina.com or filling up an enquiry form instructed at the bottom, You will get an effective response within 24 hours from Vatac sales representative.
Thanks for your valued time with interest!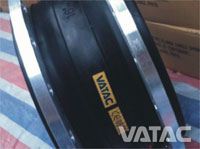 *

Subject:

*

Message:

*

Contact person:

*

Email:
(Enter the correct contact information, to ensure that we can contact you.)
Company Name:

*

Phone:
(Enter the correct contact information, to ensure that we can contact you.)
Fax:
Address: