API 6A gate valve
Vatac API 6A gate valve are offered in a variety of configurations catering for different project requirements or customer preference. Vatac provides a full line of API-6A Wellhead Gate valves in both expanding and slab gate design. We offer a full range of materials and classes from general to sour service for manifold and fracture applications.

»Size Range: 1 13/16" – 7 1/16"

»Material Class: AA - FF, HH to NACE MR-01-75

»Manufactured and tested in accordance with API-6A

»API-6A PSL 1, 2, 3 or 4, supplied with full certification

»API: 2,000 – 15,000 psi - Cast body 2,000- 5,000 psi; Forged body 2,000 -15,000 psi


Vatac API 6A Gate Valves are available, but not limited to FC Gate Valve, Expanding Gate Valve, Hydraulic Gate Valve, Ball Screw Gate Valve & Mud Gate Valve.
Please feel free to contact with us at sales@cnvchina.com or filling up an enquiry form instructed at the bottom, You will get an effective response within 24 hours from Vatac sales representative.
Thanks for your valued time with interest!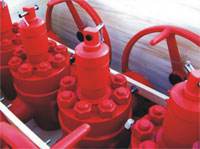 *

Subject:

*

Message:

*

Contact person:

*

Email:
(Enter the correct contact information, to ensure that we can contact you.)
Company Name:

*

Phone:
(Enter the correct contact information, to ensure that we can contact you.)
Fax:
Address: