Pinch Valve
China pinch valve manufacturers, pinch valve suppliers, pinch valve factory. Vatac offers a broad line of pinch valves for the flow control system in general and servere service conditions of liquid, powders, solid and abrasive. Vatac Pinch Valve is a reliable and cost effective flow control solution, a flexible sleeve design made of quality fabric-reinforced elastomer materials for maximum resistance to corrosion and wear caused by continuous operation with abrasive slurries, sludge, or effluent.
Vatac Pinch Valves meet Industry Standard face-to-face dimensions accepted by all engineering/design companies, thus allowing nterchangeability with other valves built to the same industry standards.

» Unique elastomer sleeve design results in longer sleeve life because the sleeve does not need to stretch during closing
» Lower maintenance cost as in-line sleeve replacement performed without the need for re-calibration.
» Zero Leakage Shut-off - guaranteed no seize or jam
Please feel free to contact with us at sales@cnvchina.com or filling up an enquiry form instructed at the bottom, You will get an effective response within 24 hours from Vatac sales representative.
Thanks for your valued time with interest!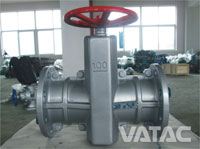 *

Subject:

*

Message:

*

Contact person:

*

Email:
(Enter the correct contact information, to ensure that we can contact you.)
Company Name:

*

Phone:
(Enter the correct contact information, to ensure that we can contact you.)
Fax:
Address: