Resilient Gate Valve
China resilient gate valve manufacturers, resilient gate valve suppliers, resilient gate valve factory. Vatac Resilient Seated Gate Valves are suitable for use in drinking water and waste water, which can be installed under or above ground. Rising stem gate valves are normally used in fire service application and socket end resilient gate valves are normally used in PVC pipelines.
Vatac Resilient Seated Gate Valves are with Main Features as below:
» Ductile Iron Body & Bonnet with high strength and impact resistance.
» Rubber Encapsulated DI wedge to ensure drop tight sealing.
» Rubber bonnet gasket for longevity and protection of bonnet bolts.
» Stainless Steel Stem with high strength and corrosion resistance.
» Back sealing facility to allow for replacement of seals under full operating pressure.
» Straight through full bore to avoid debris traps.
» Isolated fasteners for corrosion protection.
» Wiper ring to prevent impurities from entering the stem sealing system.
» Anti friction thrust washer for low operating torques.Integral cast in foot for safe and easy storage.
» Full diameter waterway Hand wheel, square cap, operation.
» Design and manufactured strictly in compliance to AWWA, DIN, ANSI, ASTM, BS & JIS Standards
Please feel free to contact with us at sales@cnvchina.com or filling up an enquiry form instructed at the bottom, You will get an effective response within 24 hours from Vatac sales representative.
Thanks for your valued time with interest!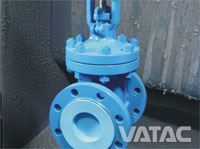 *

Subject:

*

Message:

*

Contact person:

*

Email:
(Enter the correct contact information, to ensure that we can contact you.)
Company Name:

*

Phone:
(Enter the correct contact information, to ensure that we can contact you.)
Fax:
Address: