API 6A Surface Safety Valve
The Vatac Surface Safety valve is used in conjunction with an emergency shut down system (ESD) which will be normally installed upstream of the choke manifold. The valve is remotely operated either manually by push button or automatically triggered by high/low pressure pilots. When a remote station is activated the emergency shut down panel acts as a receiver for the air signal. The unit translates this signal into a hydraulic response which bleeds the control line pressure off of the actuator and closes the fail closed valve.
Please feel free to contact with us at sales@cnvchina.com or filling up an enquiry form instructed at the bottom, You will get an effective response within 24 hours from Vatac sales representative.
Thanks for your valued time with interest!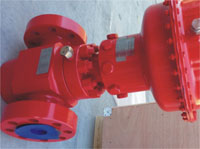 *

Subject:

*

Message:

*

Contact person:

*

Email:
(Enter the correct contact information, to ensure that we can contact you.)
Company Name:

*

Phone:
(Enter the correct contact information, to ensure that we can contact you.)
Fax:
Address: