Full Weld Ball Valve
China full weld ball valve manufacturers, full weld ball valve suppliers, full weld ball valve factory. Vatac full welded ball valves have been solving fluid control problems in oilfield, natural gas, chemical, thermal / heating system and general industrial applications for over 30 years. This series ball valves are available in two options: fabricated body and forged body. These valves are mainly used for NG pipeline pig stations, Compressor and Measuring stations, RMS Pressure Regulating and Measuring stations; Underground & Aboveground applications. Generally used between -46°C up to 120°C. Conforming to NACE MR-01-75 requirements
Main Features
Vatac full weld ball valves are manufactured with full port or reduced port. Bore diameters comply with API 6D standard; E to E dimension of valves comply with API 6D & ANSI B16.10 standards. Connection pups are welded upon request with dimensions determined by manufacturer and customer. Compliance certificates to ISO 9001:2008, API 6D-0844 with CE Marking to 97/23/CE directives.
Design Features
» Above or underground options
» Floating ball or Trunnion Mounted
» Resilient or metal seated design
» Full port or reduced bore
» Double block and bleed
» Dual Piston Effect
» Uni-body with Buttweld or Flanged Ends
» Seat Lubrication and emergency Sealing Device
» Ball material in Polished Stainless Steel 304 or higher grade
» Belleville spring structure to reduce the torque value and ensure a "zero" leakage under high pressure and temperature
» Fire Safe; Anti-static device; Blow-out proof stem
» Alloy / PTFE Coating Stem Bearing with self-lubrication; Free Lubrication
» Optionsal Stem Extension or Vertical device
» Optional Top flange to ISO 5211
» Optional locking device
Please feel free to contact with us at sales@cnvchina.com or filling up an enquiry form instructed at the bottom, You will get an effective response within 24 hours from Vatac sales representative.
Thanks for your valued time with interest!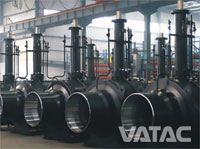 *

Subject:

*

Message:

*

Contact person:

*

Email:
(Enter the correct contact information, to ensure that we can contact you.)
Company Name:

*

Phone:
(Enter the correct contact information, to ensure that we can contact you.)
Fax:
Address: