API 6A Wellhead & X-mas Tree
An assembly of valves, spools, pressure gauges and chokes fitted to the wellhead of a completed well to control production. Vatac design and manufacture the wellhead and Christmas tree strictly in according with API 6A standards, in a variety of material classes from AA to HH, temperature ranges from K to Y, and production specification from PSL 1 Thru PSL 4. Carries a pressure rating from 2,000psi to 20.000psi.


Vatac provides design, manufacturing, fabrication, assembly, and testing of Conventional Surface Wellhead Systems, Christmas Trees, Single Well (Onshore) and Multi-Well (Offshore) Emergency Shut-down Systems (Pneumatic-Hydraulic-Electric) strictly to ISO Certification standards and requirements. Our wellheads are tough, tested, & trusted by our clients worldwide, making them a great choice for any drilling crew.


Vatac Wellhead and Christmas tree has a wide application in well drilling, oil & gas, water injection and down hole areas.
These items are always installed on the top of a well for sealing the annular space between casing and tubing, also for a purpose of controlling wellhead pressure, regulating well flow rate and transport oil from well to pipe line system. Vatac provide the most efficient, safe and high-quality wellheads for the oilfield industry with features of easier installation, maintenance for upkeeping on your wells that are easily installed with standard tools.
Please feel free to contact with us at sales@cnvchina.com or filling up an enquiry form instructed at the bottom, You will get an effective response within 24 hours from Vatac sales representative.
Thanks for your valued time with interest!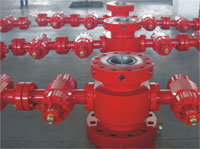 *

Subject:

*

Message:

*

Contact person:

*

Email:
(Enter the correct contact information, to ensure that we can contact you.)
Company Name:

*

Phone:
(Enter the correct contact information, to ensure that we can contact you.)
Fax:
Address: