Marine Storm Valve
The Vatac Marine Down Storm Valve are designed for controlling the medium of openning and closing, preventing refluence in seawater and freshwater piping. Supplied in the sizes 50A thru 200A, Rated at 5K & 10k. Available in Angle Storm Valve and Vertical Storm Valve.
Please feel free to contact with us at sales@cnvchina.com or filling up an enquiry form instructed at the bottom, You will get an effective response within 24 hours from Vatac sales representative.
Thanks for your valued time with interest!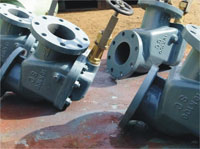 *

Subject:

*

Message:

*

Contact person:

*

Email:
(Enter the correct contact information, to ensure that we can contact you.)
Company Name:

*

Phone:
(Enter the correct contact information, to ensure that we can contact you.)
Fax:
Address: