Marine Check Valve
Vatac offers a broad line of Marine Check Valves in Styles of Lift, Swing and Angle Configution, which is provided in a complete line of materials in Cast Steel, Cast iron or Cast Bronze. Standards to JIS, ASME or Equivalents. Sizes from 15A thru 300A. Ratings available in 5K, 10K, 16K or ASME #125 & 150.
Please feel free to contact with us at sales@cnvchina.com or filling up an enquiry form instructed at the bottom, You will get an effective response within 24 hours from Vatac sales representative.
Thanks for your valued time with interest!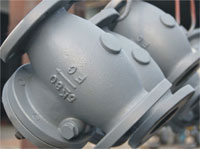 *

Subject:

*

Message:

*

Contact person:

*

Email:
(Enter the correct contact information, to ensure that we can contact you.)
Company Name:

*

Phone:
(Enter the correct contact information, to ensure that we can contact you.)
Fax:
Address: