Check Valve
China check valve manufacturers, check valve suppliers, check valve factory. Vatac Steel Check valves use a combination of dieformed flexible graphite and interbraided graphite in a predetermined arrangement to ensure an effective seal. Graphite packing achieves its maximum ability to isolate the atmosphere when it is contained within a chamber that is precise in finish and dimension. Vatac Gate valves are manufactured with stem finishes better than 32 Ra and stuffing box wall finishes for 125 Ra. In addition, stem straightness and taper are closely controlled.
Vatac standard Steel Check Valves are designed and manufactured to ensure leakage of less than 100 ppm (parts per million) of volatile organic compounds. Extensive base line laboratory testing (static and cycle testing) has been performed establishing critical design parameters necessary to achieve low emission sealing in the Vatac stem packing seal area and in the bonnet gasket sealing area, In-house testing procedure has been developed and is periodically performed to ensure that standard product design and manufacturing criteria consistently result in the Vatac Gate Valve meeting a maximum of 100 ppm VOC leakage prior to shipment.
Please feel free to contact with us at sales@cnvchina.com or filling up an enquiry form instructed at the bottom, You will get an effective response within 24 hours from Vatac sales representative.
Thanks for your valued time with interest!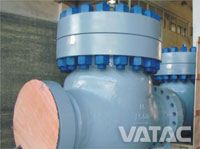 *

Subject:

*

Message:

*

Contact person:

*

Email:
(Enter the correct contact information, to ensure that we can contact you.)
Company Name:

*

Phone:
(Enter the correct contact information, to ensure that we can contact you.)
Fax:
Address: