API 16A Blowout Preventer
The Vatac Blowout Preventer - BOP is one of the most widely used into oil filed platform and subsea applications worldwide. Vatac is one of the leading suppliers in building BOP to meet the changing demands of the petroleum industry. Vatac offers a broad line of RAM and Annular Blowout Preventer- BOP to fit your drilling needs. The various models vary by size, features, and pressure ratings.
Please feel free to contact with us at sales@cnvchina.com or filling up an enquiry form instructed at the bottom, You will get an effective response within 24 hours from Vatac sales representative.
Thanks for your valued time with interest!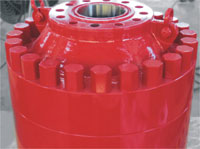 *

Subject:

*

Message:

*

Contact person:

*

Email:
(Enter the correct contact information, to ensure that we can contact you.)
Company Name:

*

Phone:
(Enter the correct contact information, to ensure that we can contact you.)
Fax:
Address: