Components and Fittings
Vatac is proud to announce a complete solution for oilfield components and fittings on-shore and off-shore, all these items are properly manufactured and strictly conforming to the latest version of API 6A, API 16A or equivalents. Vatac wellhead equipments, components and fittings are well designed and supplied fully certified in accordance with the recognized oilfield equipment standards.
» API 16C - Specification for Choke & Kill Systems
» API RP53 - Recommended Practice for Blow Out Prevention Systems for Drilling Wells
» API 6A - Specification for Wellhead and Christmas Tree Equipment
» NACE MR-01-75 - Sulphide Stress Cracking Resistant Metallic Materials for Oilfield Equipment
Vatac provides various components and fittings that are required during the frac-tree assembly and testing process. Including Frac Head / Goat Head, Spacer spool, Drilling spool, Drilling diverter spool, Cross over spool, API 6A flange, API 16A clamp connection, BOP test stump, Double studded adapter flange, Flanged crosses & tees / Studded crosses & tees / Flange to hub crosses & tees, Christmas tree cap, Flanged crosses & tees, Tubing Hangers, Tubing Head Adapters, hammer unions, Bolts, Nuts, Ring Gaskets, Gate Valve Body + Parts and other related oilfield fittings and parts will be also fall within the Vatac's supplying scope.
Please feel free to contact with us at sales@cnvchina.com or filling up an enquiry form instructed at the bottom, You will get an effective response within 24 hours from Vatac sales representative.
Thanks for your valued time with interest!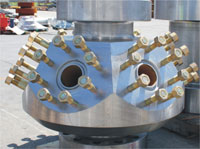 *

Subject:

*

Message:

*

Contact person:

*

Email:
(Enter the correct contact information, to ensure that we can contact you.)
Company Name:

*

Phone:
(Enter the correct contact information, to ensure that we can contact you.)
Fax:
Address: